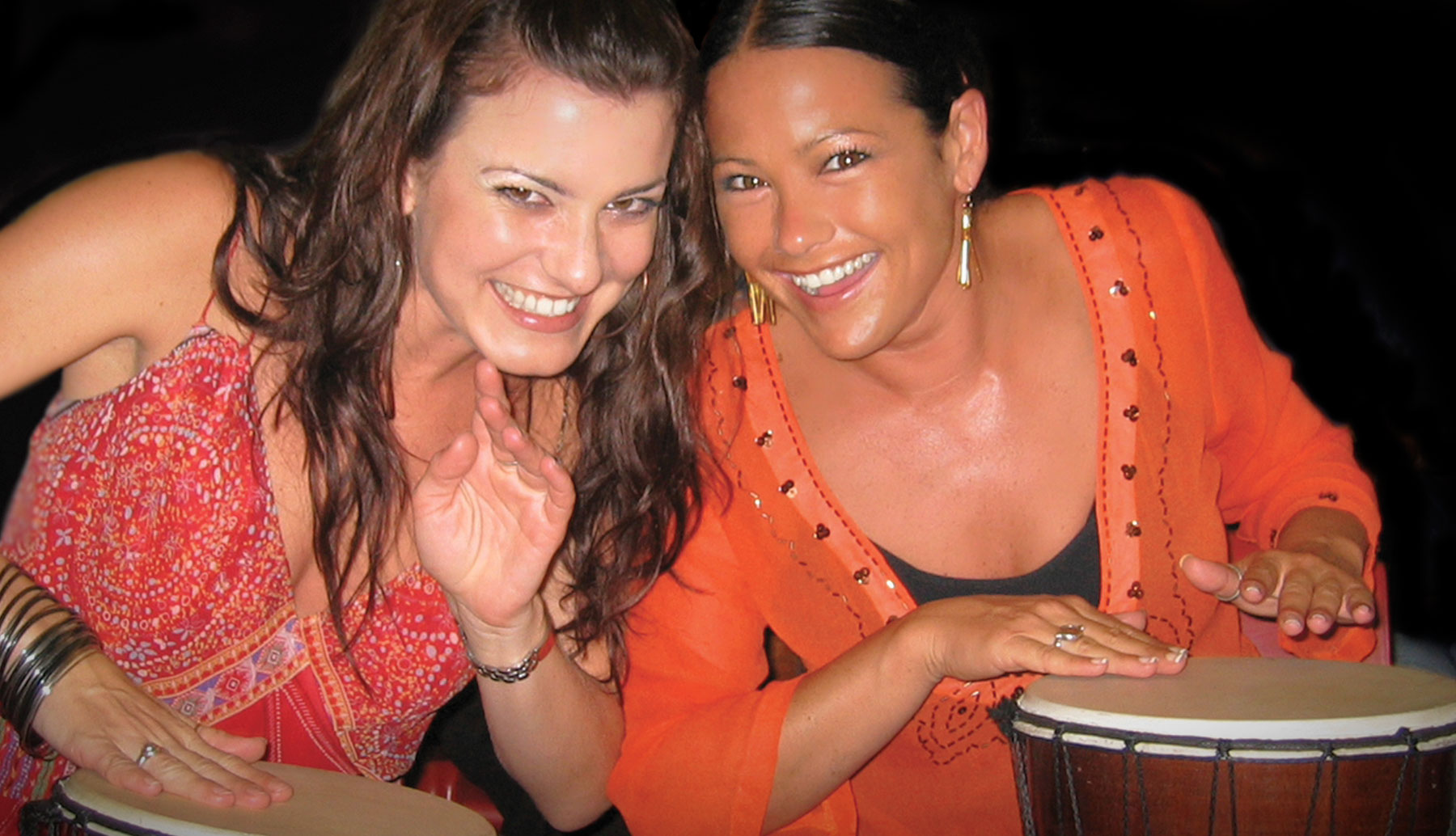 Some of the world's biggest companies have offered the following testimonials in response to our post event evaluations.
"Well what can I say, that was fantastic! On a personal note, I must congratulate and thank you and your team for making the afternoon an enjoyable and memorable experience!! And you personally, for making this event happen! Lance and the team were fantastic, very impressive and I cannot stress how amazing this experience was."
- Alex Marbeck, Schlumberger Oilfield Australia

"Thanks again for all your help with planning our event, it went down so well with all the attendees and we got lots of positive feedback! The organization of the event was very prompt and easy, it was all done before I even had the chance to blink! Seeing the looks and reactions of everyone else was priceless! It wasn't long enough! The 'one team, one beat' idea was great as it really relates to the future goals and movements of our staff as a whole. I think it affected the group very positively, everyone was on such a buzz after the activity and I heard so much positive feedback about it. I do think the group, even though from different segments, were mixing very well after the activity as they could relate to each other with the experience."
- Bree-Arna Silcock, National Australia Bank Limited

"It resonated with all members and continued to impact days after the event. It was more about a change at an individual level and provided a "high". The energy has helped people to relate at a fun level with others. You provided a unique and wonderful message that transcended verbal communication and has created a ripple effect through the organization. They want you back!"
- Lisa Erbacher, TAFE Queensland

"The fun and energy got the group together faster than would have happened just through the conference. Very well led and supported. Freed everyone up very quickly. Good because everyone could do it and felt successful. Great stuff!"
- Gerry Rodgers, Australian Parents Council

"Thank you so much for such a great night, it was just perfect and just what I hoped for. Very professional and helpful - I had complete confidence making my booking. All the feedback I have received from the staff has been praising it as the best Christmas party we have had ever and largely due to the mood that was set for the evening by the drumming. It definitely set a great mood for the night's party and got people talking and mixing after it had finished. I think this warm feel has echoed on into the office with people then talking to each other about the party the following week at work and people who perhaps didn't use to know each other or talk to each other now doing so. I would just like to say a HUGE thank you to Adam for being so friendly and easy to work with on the night and for infectious energy that made it a great night."
- Melanie Hicks, CPA Australia

"Very professional, very helpful and all over very easy to deal with. We received all the information we needed before the event so we knew what to expect from the event. The event was a perfect break during the day. It gave the group new energy to deal with the work they had to do afterwards. It was an hour full over laughter and energy. Thanks again for a fantastic show on Friday, it was a big success and everyone loved it."
- Hanna Hide-Nyberg, ANZ Enterprise Operations

"I had a great time – and so did others I spoke to. It really helped get them in the mood for the latter part of the afternoon. Thanks for your help and all the fun! Adam was very easy to work with. Loved the ridiculous dancing at the front of the group and seeing people who as a rule are generally fairly conscious of their public images (and who I thought may not participate) get quite comfortable looking silly in front of their work colleagues. Being an academic or teacher can be a fairly individual pursuit, so to see them working in teams making music was great. Adam's ability to capture the imagination and bring out the (questionable) musical skills of a very diverse group of participants… Loved the entire thing. Great for our team building which brought together people who haven't necessarily met before and who are being asked to undertake some critical work for the university over the coming months. It has broken the ice with people who were unsure of what we are asking them to do in the committees that were formed that day. The drumming helped them relax and get to know each other which made the remainder of the day (when we got into the serious business) much easier. One participant said it was the best thing they have ever done at the university. Loved it loved it loved it! Think I'll take up drumming as a hobby. And Adam has an amazing amount of charisma – perfect leader for such as activity."
- Jane Odgers, Victoria University

"We had a GREAT time with your guys last week - thanks again. Our team thought it was a definite 'keeper' of an event, you were all a "hit" (tee hee). We look forward to another time and place where we get to explore the rhythm once more"
- Lily Cubrilo, Zaffyre International Pty Ltd

"It was excellent! Adam was so helpful and accommodating when planning our event and everything ran smoothly. The highlight would have to be watching all the staff members really get into the drumming and dancing and just letting lose. Also the team work that came out of the drumming rounds was sensational. Everyone who attended said that message of the event was evident and very clear. This really made an impact on our team as a team building exercise. It had a very positive effect on our team and really built some bonds between the group."
- Melinda Fisher, Salvation Army Employment Plus

"We had a fantastic time and look forward to setting a date for our next event. All communications and correspondence prior to the event was extremely professional, informative and timely. The pre event brief by Adam was fantastic as it gave an absolute run down of how the event would run. Fun and enjoyment had by all. Feedback from participants is that it was a great team building experience. I think everyone got to see each other from a more light hearted and fun way."
- Danielle Said, Bakers Delight

"Very professional. The drumming was excellent. Participation and getting the team to work together. It also got people out of their comfort zones"
- Simon Smith, Westpac Banking Corporation

"How could you not enjoy the experience – feedback has been very positive"
- Stephanie Daly, Daly International

"I have just attended the Southern Queensland Institute of TAFE drum workshop that you conducted today and it was brilliant! Everyone from teachers, cleaners, directors and administration staff become totally involved from the moment that they sat down. Keeping it a surprise event was fantastic and the hard timeslot of last event of a two day all of staff conference was no hurdle for you and your men. The energy and smiles on people's faces throughout the event said it all. Brilliant! Thank you."
- Charlene Keller, Southern Queensland Institute of TAFE

"It gave people more insight into other people's character and make up"
- Sharon Walton, Roc Oil Company Limited

"I had the pleasure of experiencing a team building session a few years ago when I was working for another organization and the benefits of what we achieved from making music together were long lasting. And it was lots of fun as well."
- Dwayne Beale, Commonwealth Bank of Australia

"The drumming was amazing! People couldn't stop raving about it."
- Terri Segal, Yello Brands Pty Ltd

"We had a great time with Drum Circle Events. It was the highlight of our conference and I only heard positive feedback from everybody involved. You responded to all of our enquiries and provided a friendly and professional service. The whole event was a highlight for us from beginning to end, but if we had to pick out one thing - we thought that the communication without words was fantastic. It was amazing how we all "got it" without anyone saying a word and your team were so enthusiastic we couldn't help but feel that way too! That "buzz" stayed with us for the rest of the conference."
- Kerry Howard, Goulburn Ovens TAFE

"You guys were a big hit and everyone is still saying how much they enjoyed it. Very pleased with communications leading up to the event. The logistical requirements were clear and that made things easy to arrange from this end. I found Adam particularly pleasant and easy to talk to. I had a ball! The experience of being in a room with so many others and everyone drumming to the same beat is so powerful and primal. It was great to be part of that. This is a great way to feel part of a whole. You just get on with it and lose yourself in the beat. Great fun."
- Kathy Clark, NSW Businesslink Pty Ltd

"THANK YOU. I have had overwhelmingly fantastic feedback from all corners of Wishlist and many people have said that drumming was the best activity we've ever done. Dealing with Adam was a pleasure. He responded quickly with information and made the planning smooth and simple for me and for the venue. The event was brilliant."
- Keren Osborn, Wishlist Holdings

"Organization was very simple. Your processes are straightforward and communication was excellent. Too easy. Seeing the team really engage in the session and have a lot of fun… The session was exactly what we were after. A fantastic session with Adam and Drum Circle events! The session was a novel, fun and energizing way to start our meeting. Importantly, it helped to produce a focused team spirit that carried through the balance of our meeting."
- Zach Pote, Fellowes

"Just wanted to thank you and your team for a fantastic night last week with the OneSteel crew. Who would have thought some of the most introverted people in the group would be doing handstands? Everyone thoroughly enjoyed the night and after team building all day it topped off the day wonderfully as well as delivering some strong messages on leadership without words (actions are powerful, aren't they?). There have already been some good questions about the mini drums displayed proudly on our desks!"
- Jennifer Todd-Wilson, OneSteel

"What a great result. The business is still on a high from it. Look forward to working together again!"
- Tarah Spencer, Vivas Lend Lease

"The results were so impressive, you have set the bar really high for next year! Thanks heaps for your contribution this made such a difference to the overall success on the day."
– Vivian, NSW Community Options Projects Inc

"They were helpful and listened to what we wanted to achieve and gave good ideas and advice. The whole thing was fantastic but probably the opening part where the communication was in hand signals which people followed in itself was a powerful message about communicating. Both the presenters were fantastic and very engaging. It was spot on. It was powerful. People have been talking about the experience days later. It was a great experience and for us a highly worthwhile team bonding experience with powerful messages linked to our business goals and cultural improvement work. It couldn't have been more relevant."
- Tanja Van Heerden, Cuscal

"In 20 years in the industry, I have never seen this before. Lance is a brilliant showman and had the audience engaged from the second he walked on stage. Congratulations on an outstanding act. I look forward to working with you again in the near future."
- Frank Buckle, Pro Show Productions Pty Ltd

"The guys from Drum Circle Events create a great environment for fun, laughter and music. A great team building experience."
- Warrick Chan, BAT

"A big thank you to you and your team. We all had a fabulous time. Everyone is raving about it and are wanting your contact details to do the same with their teams. The event is so engaging and exactly what we wanted to bring everyone together. It is so different to what people expect to do at conferences and I for one was memorized with what you achieved with the group. There are a lot of different types of people in our team but you brought them all together. The whole experience was amazing. You guys are astounding with what you do with those drums. I wouldn't hesitate to do it all again. A wonderful and fun experience."
- Judi Brown, St George

"All fantastic. Great communication in the lead up. Hearing us all playing together was amazing; the facilitation of the event was perfect. You really listened to our brief."
- Louise Henderson, Optus
 
"After breakfast we gathered outside the conference room venue, and after a brief word from me asking the team to open their mind to a less conventional day of activities we entered the room to the sounds of the drums. This African drum group was simply awesome and involved 100% group participation of the team with instruments & dance & laughter. There was basically a room of noise that eventually turned to coordinated music when we got the rhythm together. It was really well received and set an up-beat theme and a level of trust in the group. It had an underlying theme of stop, listen, breathe... and then join the beat harmoniously. The group had to watch and listen to beats to get instructions - and by the end of the session you wouldn't know we weren't part of the band. Every session of the day that rolled from this was a success and I'm sure they set us up totally for success! So if you're ever looking for great team building… check this out."
- Kate Bohr, Commonwealth Bank Australia

"WOW!!!! Drum Circle Events was the perfect finish to our planning workshop. We loved you guys - everyone is still raving about it! Those who didn't go are very jealous now! Maxine was brilliant, so expressive and wonderful. Lance and the other drummers were also excellent. My boss is so impressed he wants to make it an annual thing - too exciting!"
- Talia Love-Linay, Department of Employment and Training

"The sales team had a ball yesterday! We all thought the musicians were excellent and we had so much fun. I think we will certainly do it again some time!"
- Lynne Hutton, Gambro

"It really set the mood and provided a great start to our conference. It is the most talked about part of the day which is great"
- Amber Cook, National Mortgage Company

"I think many people thought this was going to be another "standard" team building event but once they entered to the sound of drums and Lance took control they realized this was going to be something that they could all participate in regardless of age, fitness and skill level. The fact that the activity was able to get everyone working together without them really having to focus on that was also a plus."
- Emma O'Grady, Cooper Hand Tools

"From the moment the music started up this infectious beat just resonated through everyone and people couldn't stop smiling - it was fantastic. All round great experience and the feedback from the whole team was very positive."
- Holly Tomney, SHL

"The session far exceed my expectations and the group was more engaged than I had hoped for. The event was so unique, it was a talking point throughout the meeting and will be remembered over years to come."
- Samantha Ford, Baker and McKenzie

"The group will remember the session for quite a while and our company for presenting it. The impact was high and I'm sure it will help us to strengthen the relationship we have with our existing clients and form new ones with others. Thanks!"
- David Burton, Sabre Pacific

"The opportunity to drum together as a community enhanced by the richness of the culture… that feeling of soul is what added that unique flavor and depth to the drumming experience. That a physical event could cause a significant behavioral change and a shift in attitude in a unique and fun way... the team was noticeably happier and proactive the next day and highly praised the activity. There was a definite buzz in the air."
- Joanne Frank, Woollahra Council

"Thank you Drum Circle Events for coming out to Camden last week for our Planning Day. Everyone really enjoyed the session. There were lots of laughs and everyone really got into it!"
- Jessica Harding, Fairfield City Council

"Our main aim was to let our guys blow off some steam after a huge year. It did just that! Everyone was very hyped after the drumming. I have had a number of people tell me it was the most fun they've had!"
- Kathy Juleff, Sony Pictures Home Entertainment

"I want to say how much I enjoyed the presentation at the Auckland Primary Principals' Association Conference (APPA) this week. It was my first experience, though I had heard so much about your group. "Leadership" was the theme of our conference. They certainly showed us about leadership: how people from various backgrounds and varying levels of skills (who hardly know each other) can work together cooperatively in a short space of time to achieve successful communication and sweet harmony. AND not a word was spoken. Now that's amazing! Congratulations."
- Sue Tooley, Principal Papakura South

"Hi Adam, just wanted to thank you, Lance and the team for performing at our dinner last night at Doltone House. It is the best way I know of enlivening an event - it certainly starts off the night on a high and reinforces the principle of teamwork and sprit. So thank you again for helping with the logistics and pass on my appreciation to Lance and the guys."
- Cheryl Howey, BOC Ltd

"I'm sure you've heard this many, many times before, but everyone LOVED the drumming, most people said it was the best thing from the day! It certainly sent a powerful message to all staff. I especially liked the symbolic analogy by Maxine of Manchester Unity being a community coming together to create music and be as ONE. From the HR & Marketing, I'd like to thank you and the team for making our day a great success. As tribes go, our people are still talking about it, around the water (holes) coolers. Once again, many thanks for helping us make our vision a reality!"
- Vesna Sampson, Manchester Unity Australia Ltd

"The drummers were charismatic and looked like they were having a really good time. I think this was most important. Each person having their own drum was also great. Our drum master was great and I think it was particularly spectacular to have the African guys in the group. They made it special. The enthusiasm and friendliness of the group warmed some of our very reserved participants. Lance was very accommodating when we had a last minute change of plan with the bump in. He took a lot of stress off. The sounds we were able to come up with were fantastic. Lance tailored his talk perfectly to what I briefed him about. He was very skillful as I only gave him limited information on the day but he was brilliant. It definitely made a difference to the way people participated in the rest of the day. It really broke the ice and enthused people to interact throughout the rest of the conference. It tied in the theme very well."
- Karyn Lees, Maritime Safety Queensland

"Everyone LOVED the event, I'm still getting comments!!"
- Chris Gately, Roc Oil

"I can assure you that the drumming was one of the best 60 minutes of our two day conference. Everyone was absolutely thrilled and amazed. We enjoyed it more than I can say - we all had a wonderful time. I had so much positive feedback in the days following our conference and it is certainly a team building event that we will all remember for a very long time."
- Kirsty Thompson, Synovate

"I've had lots of great feedback on the day with everyone having lots of fun at the drumming. It was just perfect."
- Julie Render, Sara Lee

"What a great conference last week. Everyone seemed really motivated and inspired. It was great to watch the smiles on everyone's faces when they were doing the drumming and the drum giveaways went down a treat. I heard from one person "Wow! A drum! Now we can do some more drumming on the bus!". It's always very rewarding when you get to see the smiles on people's faces when they have had a great time."
- Siobhan Palmer, Trilogy Design

"I think the best part was to see everyone smiling and feeling the rhythm… it made everyone feel free and happy! It helped us all come together in a happy and fun way! I thought it was amazing. You guys were great!!! Keep that energy!!!!"
- Catherine Arkoudis, RedBalloon

"The ability of the musicians to energize such a diverse group and the buzz stayed with me for days. Whether intended or not I actually got a message from it which was "no matter how different we all are if we work together and LISTEN to each other it will all come together (like the beat) and function as a very efficient team!" For our group it was perfect. It brought us together and it got rid of any barriers."
- Nancy Williams, Sara Lee

"It was an absolute pleasure to work with you all! The feedback has been fantastic from Manchester Unity and it was a very successful event"
- Margaret Potter, Artescape

"Just a quick note to thank you and the team for a wonderful musical experience... just the right sound for the evening... brilliant!!"
- Susan Wallace, Rennies Travel Destination Management

"You guys are fantastic!"
- Michelle Sanders, KPMG

"Thanks so much for your session on Friday. Everybody loved it! The desired effect!!!"
- Maria Lowe, Saba

"I will definitely be recommending your group to others. I am continually receiving nothing but positive feedback."
- Carla McDonald, NSW Rural Fire Service

"Our evaluation sheet for the weekend asked us to rate sessions from one to five, your session I rated as a six (or maybe even a seven). It is a long time since I can remember enjoying myself so much and the conference theme was followed to a T. A huge thank you to all the team members for their enthusiasm and positive interaction with a very large group of volunteer firefighters from all walks of life. Keep up the good work."
- Helen Riedl, Malua Bay Rural Fire Service

"I just wanted to thank you and all for your performance at the AHM DEP Day last Friday. The entire day ran really well, but you were definitely the climax that we were hoping for. Feedback from staff has been incredibly positive. I think it was fairly obvious on the day that the staff were entranced with the experience you provided. From a corporate perspective, the experience also underscored so well the message of unity and cooperation that we wished to convey. The organization part of our interaction with your company was also only positive from the very first contact. You were very accommodating and everything ran more smoothly than we could have dreamed! Please pass our thanks and congratulations on to all the members and managers. There are several female AHM staff members interested in telephone numbers for the band members - particularly Adam! Thank you again for making our DEP Day successful. We will - and have already - recommend you to anyone having a group event that they want to make a memorable experience. If you want to use me as a reference for anyone considering using you, I am happy to speak with your prospective clients."
- Jackie Robinson, Australian Health Management

"Wow, what a fantastic event! Thank you on behalf of Joe and myself for helping making our function extremely special. The drums were a huge success and were the highlight of the night. We were really impressed that everyone participated whilst enjoying themselves at the same time and I've received comments from our Maitre d', Mass Rahim, that "in all the years he has worked at the bank he has never seen the function room so alive."
- Leigh Bradbury, ANZ

"Just wanted to say a big thank you for last night. After you left, everyone was raving about how much fun they had. So thank you again, for making our function a great night."
- Catherine Buckley, Henry Davis York

"A big thank you to you for your organization and the guys for an awesome finale to our business day!! EVERYONE was blown away and had an absolute ball. The girls can't stop raving about it. Adam and the guys were extremely professional and lots of fun."
- Rowena Brookes, Heritage Healers

"On behalf of the Communications team at ING Direct thank you all for your massive contribution to this year's Forum events. The staging of these two shows really was a huge undertaking that would not have been possible without the skills and support you provided. We are grateful to each and every one of you for your professionalism and positive attitude."
- Laura Taggart, ING Direct

"I had such a fantastic time it was a highlight for me. I have even got my wife (who is a singer/songwriter herself) to get me some drums for Xmas!!! I was very impressed with the way Adam and the guys got the crowd involved and excited about what they were doing he is a true asset to your team."
- Simon Gregory, Hungerford Hill Wines

"Thanks for everything. We all loved our Xmas party event. And thank you for making all the organizing of the event such a breeze."
- Kim Schwartz, RedBalloon

"The experience was exceptional. A great activity with a relevant message for our overall company."
- Mark Ethell, Terumo Corporation

"We are the Australian Swim Team, made up on individual personalities who need to work together and assist each other in reaching their goals – the message was fantastic! I think the event improved the confidence of a number of people on our team. Some of them are shy and new to the team, so this gave them an outlet to be themselves and mix with the team. Thanks for creating the drum circle with us, it was so much fun and everyone had a great time. I didn't realize that the team was so musically talented!"
- Melanie Jenkins, Swimming Australia Paralympic Program

"I think we all got a chance to have fun with each other which can be difficult in a work environment. I think our team has bonded much better and will be beneficial back in the office as a result. Great experience, lots of fun had by all, took everyone by surprise."
- Krystal Swarzes, Perpetual

"Thank you very much to the team for such an outstanding experience and a fantastic start to our conference. An outstanding experience, from our conference feedback forms; it was rated as one of the top events within the conference. "An energizing heart starter". "Have never had such a powerful and uniting experience with such a large group of people". The way that the message was delivered and the impact of the sequence of events to ensure that it was reinforced – Excellent!"
- Melita van het Bolscher, Pumpkin Patch

"It did help to loosen everyone up and get people talking more. After the event they were much more relaxed in each other's company which was the purpose of the event. Lance did a wonderful job of linking the information I had given him to our team and the drumming event."
- Astrid Ozols, Lend Lease

"Everyone - absolutely EVERYONE - loved it… really brought some out of their shells (dancing) which is great to see! People are still talking about the drums/bringing together of people etc. I loved every minute of it. We were really focused on increasing interactions amongst the different teams/learning what each function actually did in a work sense… the drumming at the end of the day certainly meant the day ended on a high note which has reenergized the whole team. Lance and his crew were brilliant! Smiles all round."
- Samantha Gilligan, ANZ

"A very well organized and managed business. You have a "well oiled machine". From the moment the guys starting playing and we opened the doors for the delegates to enter the conference room there was amazement on everyone's faces. The non-verbal instructions on how to play and build the rhythm were sensational – it created the exact atmosphere we were aiming for to get the conference started. We wanted to give something back to our delegates, something that would open their hearts and minds for the next two days. The energy levels were heightened in a positive and upbeat way. It was a sensational performance."
- Sue Hamparsum, Australian Financial Services Educators

"We had a great time - the group couldn't stop talking about it!!!"
- Christopher Hamilton, Marsh

"So many people commented how much they enjoyed themselves and what a great opener they thought it was! Thanks to everyone who made it happen on the day, Lance and all the other musicians as well as the roadies and crew."
- Vanessa Zanotti, Carlson Marketing

"Thanks so much for last night. We had such a great night and the drum circle really set the tone for the rest of the evening. The benefits I think were mostly felt in today's planning session. The thing is, we're a small team within a really large global organization and we are aiming for greatness within our region. Your team were really astute and picked up on what our business was and what our team needed, almost intuitively. I also want to personally compliment you on your business. Each member of your team treated us with utmost professionalism and respect. The way you organized the event and communicated with us made us feel that every single client that you make contact with is treated as special."
- Andrea Hill, Resources Global Professionals

"I just wanted to give you a big 'Thank You' for helping me arrange our team afternoon drumming in the park! Everyone enjoyed the event and many are still chatting about it!"
- Natalie Mendez, BAT

"Just wanted to say absolute fantastic performance yesterday you guys gave us at our MYOB Conference. What a truly great experience really brought back memories of "Scatterings of Africa". Certainly puts everyone in touch - you guys did a great job of bringing the crowd together."
- Gillian Rossouw, MYOB

"It made everyone feel happy and involved which contributed to the new team members feeling a part of the team."
- Pru Banister, Perpetual Investments

"It went down without a hitch and has received rave reviews. It is without doubt, the best team building event I have ever hosted or attended."
- Stephen Davis, SAP Leaseplan

"It was a huge success so thank you to yourself and all your group for putting on a great show."
- Monica Cole, International Paint

"We had a very positive event and your segment over our conference dinner was extremely well received. It is referred to often!"
- Miriam Stariha, John Fairfax Holdings Ltd

"Thank you very much for the wonderful drumming experience you provided to our team on Friday. Everyone was most impressed!"
- Geeta Sully, St George

"I would like to thank you and the team for Saturday. It was a great success and had everyone talking about how much fun they had."
- Julie Muller, Omega Appliances

"Thank you again for a wonderful drumming experience last Sunday afternoon. The team loved it and it certainly helped bring the energy of the group into a great space. Please pass on my thanks and appreciation to all of your team - their energy and enthusiasm was fabulous! You continue to be one of my favorite team building activities and I think there are now a number of my colleagues who share this opinion!"
- Alison Pate, Macquarie Bank Limited

"Thanks very much to you and your team. I have had a number of very positive comments about the experience from our top team members. Thanks for being so professional and giving us a great night."
- Mike Giunti, Zinifex Ltd

"Everyone couldn't stop talking about it and how much fun it all was!"
- Puri Amati, Westpac

"Very customer focused, pleasant and courteous. Motivating. For me it was about seeing the sheer delight and concentration on the faces of 80 engineers all 'get into it'. The fun and energy, the inclusiveness and the togetherness created through music. We finished on a great high."
- Judy Mann, RTA

"Thank you for making our event truly memorable. Highly recommended!"
- Marisa Costa, Macquarie Bank

"Wanted to thank you and the guys for a great lead in to our session yesterday. Everyone is commenting on how fantastic it was and from my perspective the perfect start to the day. It was interesting to watch people engage – some of them a lot more slowly than others but eventually they were all with the beat. It's a great concept and heaps of fun – thanks again!"
- Margaret Owen, Business Objects

"Thank you for providing us with such an emotionally charged, positive drumming experience for our Origin Energy Event. It was everything that I had imagined and it was a pleasure working with you. Lance and the drummers you were truly wonderful. It was a most memorable experience for all those who attended. Our client was so thrilled with the experience."
- Ingrid Kellenbach, Australian Business Theatre

"I just want extend our sincere appreciation to you for the wonderful performances that were conducted in Brisbane, Melbourne and Sydney. The interactive drumming sessions as well as the African Chillout were most definitely the highlight of our event."
- Eric Baravilala, South African Tourism

"You did a superb job of energizing and motivating our sales staff. I'd love to be involved in another session!"
- Ben Taylor, Reed Business Information

"I just wanted to say thank you for a wonderful event on Wednesday. I thought it was just fantastic. To see the group working so well together and creating great rhythm was a great site to see. The concentration and focus that the team demonstrated showed great teamwork and a wonderful form of exercise for them too. A number of the team came up to me afterwards saying how great it was and how good it would be to use with their own teams in the future. I have to say the team was sensational. Their passion and energy was fantastic. I was standing at the back of the room and the emotion the music created in me was a great feeling. The afternoon was a great success thanks to you. Thank you again for a great event."
- Fiona Shelley, Westpac

"It truly was an amazing and memorable experience, our entire group thoroughly enjoyed themselves. Our objective of bringing our newly formed team together was realized with the drumming activity, it was high in energy and fun (perfect for post lunch timing). It really took some out of their comfort zone and it was great to see by the end of the activity no one was too shy to get up in the middle of the group and dance around with the tambourine. A fantastic ice breaker activity"
- Melissa Nolet, Silcar

"Our group was blown away by such a vibrant and exciting start to our conference and it certainly set the tone for our four days together"
- Nicky Verdich, Wyeth Consumer Healthcare

"Thanks for your efforts on Tuesday. Your activity was a wonderful way to cap what was a fantastic day for our group."
- Marie-Therese Carabott, Victoria University

"Thanks again for a fantastic show. Everyone's been raving about it."
- Michelle Morley, Heritage Building Society

"Thanks again for the session last week it was fantastic and the feedback from the team was all very positive. A great way to kick off our day."
- Nicola Furey-Ward, CommSec CBA

"Thank you so much for your fantastic work over the weekend. I'm certain that I can speak for everyone who was there that your session went absolutely fantastically. I have had staff members from all levels (consultants who just joined us right through to the Founding Partner) seek me out to tell me that the drumming was the best team building event they have ever done. I have never seen the consultants as enthused about an event and it has even changed the way our partners want to run events in the future! You guys were absolutely brilliant and I can't thank you enough. Personally, I'm particularly glad we had the event on the Friday night – it was a brilliant way to kick off the weekend. Thanks again for all of your help and I will definitely be recommending you to all and sundry!"
- Kathryn Randall, Lodestone Management Consultants Pty Ltd

"Thank you so much to you Adam and the team for an amazing and memorable experience. It was such a great way to end the first day of our business update and team building event. When the team got to the dinner tables and saw their branded drum the buzz started all over again. It set the tone for the rest of the weekend which was an awesome success. This is the type of event that one can arrange every year and it will still have the same impact on the participants."
- Veronica Lemmer, Lodestone Management Consultants Pty Ltd

"The event was great and the client was extremely happy with Drum Circle Events and mentioned that she would love to use you again for possible future events coming up. It also goes without saying that any events that come up that require your services - you will be first on our list. See you at the next one!"
- Kathleen Dalziel, CiCreate

"In the lead up to the event you were very professional and prompt with your responses. I definitely think we'll get an opportunity to work together again in the future."
- Sarah Gedge, Telstra

"Dear Lance, on behalf of my colleagues, thank you so much for presenting your unique team building activity to our team last Friday. They all had such great feedback!"
- Caroline Gair, CiCreate

"Wanted to thank you for a fabulous Job at Taronga. What was great about it was that you were able to get a very tough audience and turn them around. I think that is the mark of a group that is highly, highly skilled and experienced. Congratulations, the client was extremely happy."
- Nick Fury, Got It Flaunt It

"Great activity that met its brief of bringing together three separate organizations in a fun and enjoyable way. Thanks!"
- Kirsty Evans, QEC

"Lance, Adam and the team gave an incredible and unforgettable experience – with a bang! An excellent ice-breaker for an all-day conference."
- Bettina Pavlidis, Optus

"Thoroughly enjoyed, from first point of contact, to the end of our session, Adam and his team were fantastic and made our experience fun and memorable. The team is still talking about our drumming event, had so much fun. You guys were awesome."
- Michelle Wadsworth, City West Water

"Drum Circle Events were extremely easy to coordinate with. Everything ran better than imagined. Really loved the way they took our conference theme of 'One Team' and rolled it into the drumming activity. Starting a conference with an activity like this was a huge success, I would definitely do it again."
- Emily Prince, Lion Co

"Drum Circle Events were a pleasure to work with and were the highlight of our event. Everyone loved getting involved, especially as the performers made it easy to follow and learn to use the drums. I still can't believe we managed to have so many people set up with drums and playing in such a short amount of time."
- Natalie Stoneham, Navitas English

"The positive feedback was overwhelming. The team was buzzing for hours afterwards. Would have Drum Circle Events back in a heartbeat."
- Jemma Carlisle, UNSW

"What an extraordinary session you led with our congress delegates. It was absolutely fantastic and way beyond our expectations. You literally blew people away and the following sessions were so energized due to your particular time with us. I found this experience one of the highlights of our gathering. With over 240 participants, it could have been a disaster. What evolved was a gentle, persuasive and encouraging inclusion of all participants to "come join with us to play our tune". From the outset, all participants were fully engaged and committed to the process. Adam has a wonderful way to settle and include people into drumming as one. This would be a significant experience for any organization or group of people who want to build the concept of team, especially in playing the same tune, working together to the beat of different drums. Take the plunge and be brave. You will be extraordinarily surprised of the outcome!"
- Bob White, Edmund Rice Education Australia

"Relaxed but professional… Really enjoyable – everyone was smiling… It was educational – the 3 ways to drum… Interactive… Really worthwhile… Liked how when we walked in the drumming was already happening so we had no choice but to join in!"
- Sky Barone, Lion Co

"Thanks so much for the amazing session last Tuesday. The whole experience was a highlight – from the ease of set up to the way everyone communicated – there wasn't one person who didn't enjoy it. We had three people who decided not to enter the room as they didn't like the loud noise or were too embarrassed – but the fun and beat got to them and they were drumming with the best of them by the time the session was finished – they were the only ones disappointed as they hadn't got involved from the start. People were happy and pumped for the rest of the day – it was amazing to see all different people enjoying the experience together"
- Maureen Lockett, University of Ballarat

"Adam and Lance were very helpful and approachable. My team was 'buzzing' during and after the session and they really valued this experience. This was a great team building activity that was greatly valued by all attendees."
- Angela Walsh, AMP

"Our whole team enjoyed the event. We had many comments that it was the "Best Team Event" that we had had over the past years. You did a great job engaging everyone in the room and getting us to work together."
- Danielle McKimmin, Boehringer Ingelheim Pty Ltd

"Just wanted to say a huge thanks for our event on Saturday morning. It was totally amazing. Everyone had a wonderful time and were all taken by surprise and then completely blown away with what they could achieve together musically. It was such a great team building experience for all 114 delegates. We always survey our delegates afterwards and ask them to score each session over the weekend out of ten. You guys averaged around 20/10! It was the highlight of our conference. Thank you for your energy and enthusiasm."
- Jackie Rawlings, Bjelke Petersen Physical Culture

"On behalf of the team at CUB Abbotsford I just wanted to thank you and your team at Drum Circle Events. The Drum sessions you did with our teams were very well received and just what we needed. I personally thought the enthusiasm and energy your team created was fantastic."
- Hunter Evans, Carlton & United Breweries

"Adam and his crew manage to harness the power of the beat deep down inside each of us to engage even the most skeptical of participants."
- Richard Marques, Carlton & United Brewery

"It was all perfect. We were thrilled with Drum Circle Events, AGAIN! You guys were awesome."
- Kate Powell, Hipnotic Media

"Thanks for a fantastic job as usual."
- Andy Letho, Hipnotic Media

"Thanks again for a great job in opening our conference, it was perfect."
- Siobhan McCray, Nando's

"Drum Circle Events is a fantastic way to engage staff and help them realize that working together does really make for great results. Sensational - love your work Drum Circle Events."
- Katrina Dawson, George Weston Foods

"Lance you and your team are amazing!!!"
- Lilian Hii, IAG

"Just a quick email to say a huge THANK YOU for the drumming session on Saturday afternoon! Our delegates walked away from the session on a high and were still 'buzzing' well into the evening. The session was a great fit for the closing of our conference."
- Cherie Perceval, Family Day Care Australia

"You guys were very easy to work with in the lead up to the event. Instructions were confirmed straight away, communication was easy and you guys were punctual on the day, which made it less stressful for us! The start of the session itself was so impactful. We had been building the event as a surprise and it was a fantastic icebreaker activity for our delegates. A real highlight of the activity was where we were encouraged to break off into four groups to work on a rhythmic song. The Drum Circle Events guys were extremely easy to work with in the lead up to our event. Adam and his team were professional and passionate, and the drumming activity was a fantastic way for our delegates to get to know each other for the first time. The feedback we have received from the participants is they absolutely loved it!"
- Rebecca Lo, Customer Owned Banking Association

"Just wanted to pass on the hugely positive feedback I received from the client at PICA. They said you guys were brilliant, everyone loved you and the conference ended on an incredible high because of you."
- Camille Carman, Celebrity Speakers

"The Team building session was really great and achieved exactly what we were after. Great event, very well executed and thank you very much for all your help."
- Neville Alexander, Royal Automobile Club of Victoria (RACV) Ltd

"Thank you so much for today – it was wonderful and everyone really enjoyed it. It could get really addictive! It was beyond excellent."
- Jude Gray, Caulfield Grammar School

"As we had a lot to organize for the offsite, simplicity of engagement was exactly what we needed. A smooth transition over to Lance and the team for a walkthrough meeting worked very well and put the team's collective mind at ease in the lead up to the day. I could not fault the lead up approach to the event especially the walkthrough so organizers Helen and I were well versed with the approach for the day. We have had rave reviews from all the participants I have engaged post the CCO event! The ability of Lance and his team to bring us all together on a journey and unite us in rhythm captured our spirits. When combined with the history of the drum and related to how we can function as a team with the rest of business it became a very powerful message for us all. The most compelling part of all was the ability for each and every person to participate in some way, something that is often lost when you have a single speaker engaging with such a large audience. We would definitely recommend the team for future events as the message transcended to all participants, a truly unique and well thought through learning engagement. If you need to unite your team, to bring them together as one with a combined operating rhythm then there's simply no better crew that the team at Drum Circle! These guys have the unique ability to take everyone on a journey first of individuality and discovery and then harness the power of the combined group in harmony and expression. I'd wholeheartedly recommend Drum Circle Events to lead your team or organization on a journey of discovery whilst incorporating a whole heap of fun. Thank you Drum Circle Events for a truly memorable offsite event!"
- Brent Suhr, Bupa

"Was great to see everybody get so into the session, even those that normally shy away from such things. Many of the people who attended your session rated it as the highlight sessions of our two day conference. I thought the session was brilliant, and enjoyed seeing everyone lose their inhibitions and just enjoy! It was awesome."
- Lisa Stoddart, Lion Co

"Drum Circle Events was just what we needed to jazz up our event, delegates were happy for the break in proceedings and thoroughly enjoyed the experience."
- Jessica Chasen, Henry Schein Halas

"Overall, it was a highlight of the retreat, providing a change of pace and an opportunity for staff to mix with others in a different context."
- Sharone Ciancio, Australian Catholic University

"This was the third time I attended a Drum Circle event and just like the previous events, it was high energy, engaging and fun! A terrific start to our team building day!"
- Sharon Scheepers, Venture Consulting
info@drumcircleevents.com.au | +61 (0)2 9130 6820
© Copyright 2015 - Drum Circle Events Pty Ltd - ABN 68 138 519 418