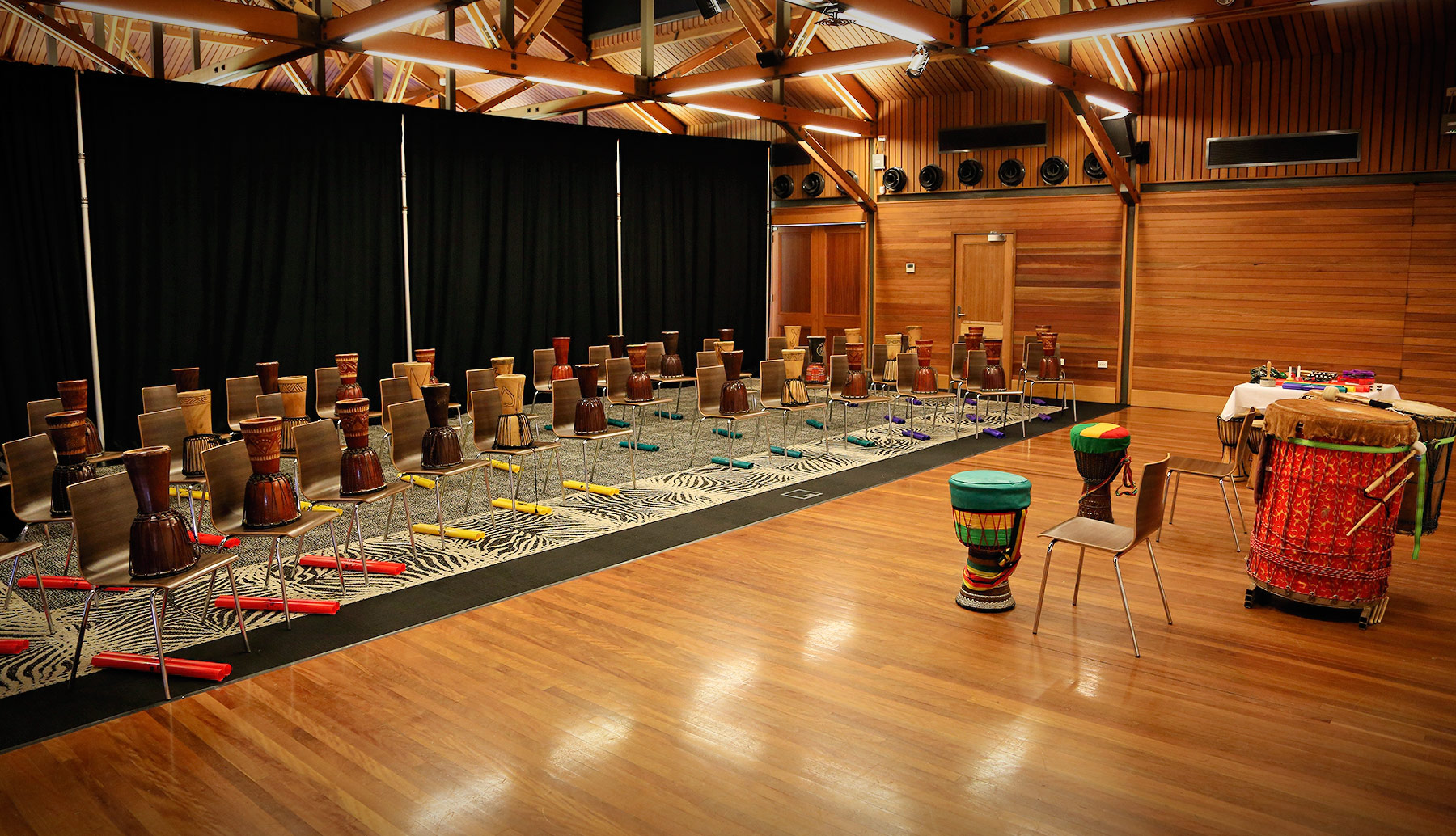 Team Building & Music Making
Why Drumming Leads to Team Building

For centuries drumming has been used right throughout the world marking momentous occasions such as births, deaths, harvests, weddings, battle preparation and rites of passage.
The sound of the drum strikes a chord within us all that is quite profound. It not only gets us tapping our feet and hands but just like it has done throughout history, the drum continues to bring people together. Today team drumming remains one of the simplest and most direct ways to get people involved and sharing an experience as one.
Cultures right across the globe utilised these instruments not only for their musical qualities but as a means of communication. As the sound of the drum travelled from place to place, it sent a message to people and drew them together. Exactly the same effect is achieved with today with interactive team drumming.
In modern day workplaces drumming is an effective way to bond a team and have fun together. The experience of team drumming is one of fun, joy, expression, and most importantly of all it is shared. Team building events provides a safe place for colleagues to really experience the joy of creating together.
"Everyone got to see each other from a more light hearted and fun way." - Danielle Said, Bakers Delight
Corporate Team Building ACTIVITIES

Interactive drumming is a team bonding tool employed by thousands of corporations worldwide. Some of the benefits our tailored sessions have helped clients achieve include:
Team Building:
Taking the concept of a band or an orchestra, our facilitation sees each individual or group playing their unique part, yet working in harmony together to create a fantastic musical piece. This yields an immediate and impressive result, possibly the most crucial element of corporate team building... evident in minutes is that the whole is truly greater than the sum of the parts.
Promoting Cooperative Success:
Our session facilitation highlights the learning of a new skill, and embracement of change as the session evolves. Participants in our team building events learn to listen to each other and work in a cooperative rather than competitive manner. Not every rhythm is instantly grasped by every participant, and that's precisely when teams step up and support each other.
Leadership:
During our leadership workshops self directed team work sees brave leaders encouraged to orchestrate their own pieces. A relaxed yet powerful forum is created where leaders must not only delegate rhythms, but also coordinate members, actively engaging groups for additional performance components. These are truly unique leadership exercises tailored to your company's working style, team interplay and leadership values.
Enhanced Focus & Reenergizing:
The physical act of drumming sees the left and right brain engaged at the same time, which stimulates analytical and creative thought processes. The understanding of rhythm's importance in all areas of life can also be a great insight. These principles often carry over into the workplace and even personal lives.
Stress Release & Relaxation:
Physical in its very nature, drumming can be a great stress release, often "breaking the ice" and leaving delegates feeling relaxed. The feeling experienced after group drumming has been likened to the rejuvenating effect derived from meditation. The effect of drumming on mental states is very profound in that the focus, stress release and group energy after a drum circle all add together to leave people feeling both stimulated, relaxed and receptive. This is effective as a tool to set the atmosphere and tone of conferences, or indeed pick up delegates halfway through retreats when energy levels begin waning.
Breaking Down Barriers:
Our corporate team building events have proved a very useful tool for breaking down barriers between diverse demographics. Regardless of age, sex, culture or job title, participants in our corporate events all come together and share the same musical pulse, contributing to the same piece of music. During the drum circle, playing fields are leveled... one team, one beat. The shared experience then acts as a truly positive reference point for the team to calibrate themselves with.
Memorable Fun:
Interactive drumming puts smiles on dials and leaves participants in great moods. It's a real celebration of people having fun and interacting with one another. For this very reason drumming has been used for centuries to celebrate, reward, inspire... and now, build team spirit in the workforce!
A Truly Unique Experience:
Drumming is extremely memorable given it is such an unusual thing to do in the workplace or at a corporate event. Most people will never have drummed on a traditional African Djembe drum and certainly would not have seen a large group transformed into a unified orchestra before!
A Celebration of Multicultural Diversity:
Drumming is a great way to open people up to the beauty of diverse cultures. It is a universal language and therefore showcases the power of multiculturalism. At the core of all our sessions is non-verbal facilitation - so powerful are the messages found in music!
info@drumcircleevents.com.au | Sydney: +61 (0)2 9130 6820
© Copyright 2015 - Drum Circle Events Pty Ltd - ABN 68 138 519 418